EC (Environmentally Consistent) Petrol Products
Kiwi-Eagle manufactures EC products which are comprised of patented strains of lyophilized (freeze-dried) Pseudomonas cultures. The bacteria in EC microbial products (same as the Munox products) are stabilized, living microorganisms. The strains of bacteria in the EC products were isolated from soil and are naturally occurring. The strains contained in the products target petroleum hydrocarbon and FOGs (fats, oils, and greases) as a food source. The microbes degrade the contaminants down to a simple and harmless byproduct of carbon dioxide and water and die off when the contaminants they feed on are consumed. They are not genetically engineered and they do not mutate in the environment.
EC Petrol products for the degradation of petroleum hydrocarbons are the only microbial products presently available in the United States to carry the EPA's Design for the Environment recognition logo. This EPA recognition demonstrates that Osprey Biotechnics has partnered with the EPA in the formulation of these products to produce a quality microbial product that has a preferable environmental and human health profile compared to conventional chemical products.
| | | | | |
| --- | --- | --- | --- | --- |
| Product | Target Pollutants | Product Size | Mix Ratio | Usable Product |
| EC Petrol | Hydrocarbons | 5 Gallons | 10:1 | 50 Gallons |
| EC Petrol/FOG | Hydrocarbons, FOG's | 5 Gallons | 10:1 | 50 Gallons |
| EcoBilge | Hydrocarbons | Quarts | Pre-Mixed | 1 Quart |
EC Petrol
EC Petrol is ideal for use in areas where hydrocarbons create a problem for the system. EC Petrol has been successfully incorporated into car wash facilities, municipal systems, and other industrial applications.
EC Petrol/FOG is the only microbial product on the market that can degrade both petroleum hydrocarbons and FOG's (fats, oils, and greases) simultaneously. EC Petrol/FOG is ideal in applications such as lift stations, detention vaults, and other waste water structures.
EcoBilge comes to you ready to use! Just pour EC Petrol Marine into the bilge of your pleasure craft, fishing vessel, or freighter and let it go to work on any petroleum hydrocarbons that may have created a sheen in the water of your bilge. When you go to pump your bilge you can rest assured that you are not releasing hydrocarbons into the surrounding waterbody.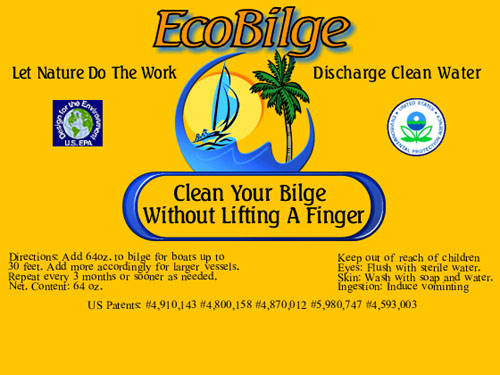 Associated Documents (.pdf)

EPA Letter
Detailed Product Information
Reduce your maintenance time and expense! Try the EC Petrol products today!